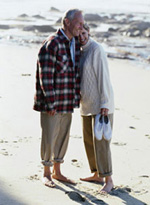 Individual Retirement Accounts
Provide for your retirement by investing in a Individual Retirement Account today. We offer several terms to help maximize your earnings. Depending on the type of IRA, you may be able to defer on your current income or exempt the earning from future taxes.
Start saving for a child's higher education with an Education IRA at the First National Bank.
Traditional IRA - Allows you to defer taxes on earning until they are withdrawn. Some contributions are tax deductible for the tax year for which they are made. If you have earned income and are younger than 70 1/2 through the entire year, this IRA would fit you. You can withdraw funds without penalty after you reach age 59 1/2.
Roth IRA - Big benefit here is the tax-free distribution --for purchasing a first home (up to $10,000.00) anytime after 59 1/2; disability; and death. You can contribute at any age and there are never any required distributions.